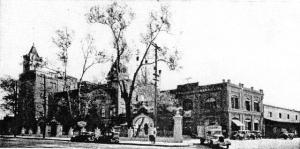 The Brewery Arts Complex is located in the heart of Lincoln Heights, just east of Chinatown, beneath the landmark smokestack of the Edison Electric Steam Power Plant. This was the country's first ever Edison power plant west of the Mississippi, dating back to 1902. Railroad tracks and formidable iron gates of the railcar industry are still a part of the building's Spanish Mission architecture.
Twentythree acres stretch beyond the plant, where 21 warehouses in 14 buildings house between 500 - 700 artists and businesses… and one local pub restaurant called Barbara's (with a fantastic beer list). The historical site has seen the country turn around it, with the once Eastside Brewing Company turning to lemonade as the Zesto Beverage Company during prohibition and back to booze again once prohibition was over.
In 1982, with the passing of the Artist-In-Residence code, what had become the Pabst Blue Ribbon Company in 1953 was finally converted into the artists' lofts that the site is known for today. The Brewery Arts Colony is now home to practitioners of a variety of artistic mediums from painting, sculpture and photography to industrial design, architecture and experimental new media.